Customer: WooHa Brewing Company
Application: Portable beer transfer
Equipment Supplied: Hygienic flexible impeller pump
Location: Scotland, UK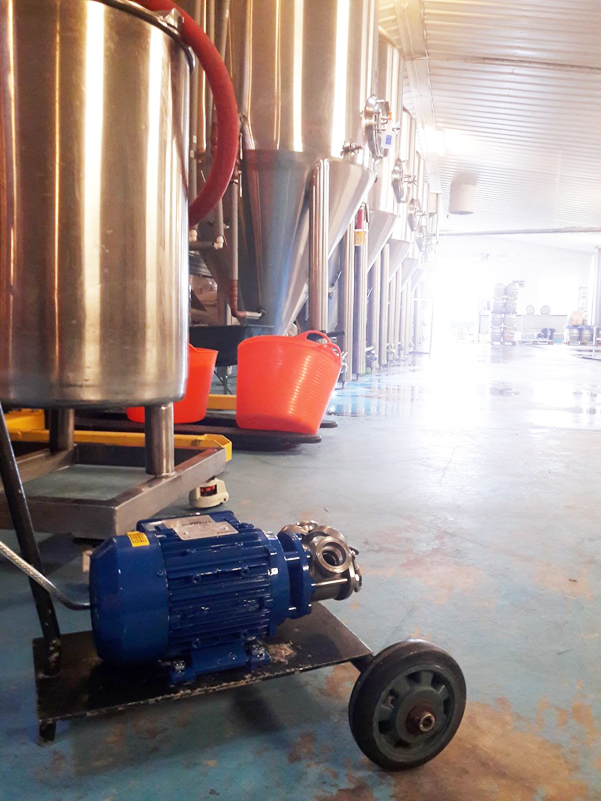 Equipment Supplied
1 x Liverani FEP Flexible Impeller Pump c/w Tri-Clamp Connections
Model: EP MIDEX 1 1/4"
Application: Portable Beer Transfer
Flow at 24m head: 1920 l/hr
Pressure: 6m
Pump Casing: SS 316
Impeller: EPDM Food Grade
Seal: EPDM Food Grade
Voltage: 1 Phase 230v, 50Hz
Motor: 0.75 Kw running at 1400 RPM
Portable Food Grade Pump
Enquiry
We received an enquiry from a brewery customer based in Scotland looking for a hygienic pumping solution for a beer transfer application. The pump was being used to transfer large volumes of beer throughout the factory and therefore needed to be portable as it would be moved around the brewery rather than installed in one fixed position.
Due to the product being for human consumption, the solution of course needed to be food grade and easy to clean.
Key challenges:
Approved as safe for food handling
Able to be easily transported around
Solution
In order to meet the sanitary conditions of the application, we supplied a flexible impeller pump with a food grade impeller, casing and mechanical seal. We also swapped out the standard BSP connections for tri-clamp connections as this meets the ISO 2852 standard for couplings within the food industry, as they have minimal areas for bacteria to congregate. As this food grade pump is reversible, it allows the user to quickly clean the pump between uses by running a cleaning solution through it. Thanks to its compact, relatively lightweight construction, the flexible impeller pump can easily be mounted on a trolley for moving it to where it is required.
Within two days of the pump being delivered, we received a warmly welcomed sample of beer produced by the customer. They were so pleased with their purchase and wanted to give us a taster of some of the beer that the pump would be helping to produce.